Alumina ceramics are a unique material, in that they combine many of the desirable properties of metal (high strength, hardness and temperature resistance) with those of plastics (chemical resistance and good electrical properties). The various formulations available are blended to meet specific requirements of tensile strength, wear resistance, surface finish, thermal stability and corrosion resistance – properties they will retain even under the most adverse of environmental conditions.
Ceramics are hard – in fact, among the hardest materials known. Harder than tool steel or tungsten carbide, and as hard as sapphire, making them an ideal choice to withstand extreme mechanical wear and abrasion.
Ceramics have exceptional compressive strength. When compared with fused quartz or porcelain, they exhibit two to five times the strength and values far exceed glass or plastics. Even at elevated temperatures, they provide long life in many structural applications.
Ceramics have great thermal stability. Their extreme hardness, modulus of elasticity and low thermal expansion allows them to maintain original dimensions under high load, high temperature conditions and ageing.
Ceramics can retain up to 50% of their room-temperature tensile strength at 1000°C and, when returned to ambient temperature, their properties remain virtually unchanged.
Ceramics are inert, highly resistant to chemical attack and unaffected by water, solvents, salt solutions and molten salt. Their corrosion resistance is far superior to metal and allows for long life in hostile and corrosive environments.
Ceramics are normally bonded with epoxy, which achieves a high shear strength, along with good moisture resistance, chemical attack and ageing. Flanges, heat-shrinking metal over ceramics and braising to metal surfaces are also methods of bonding ceramic-to-ceramic or ceramic-to-metal.
Temperature range:
0°C to +1500°C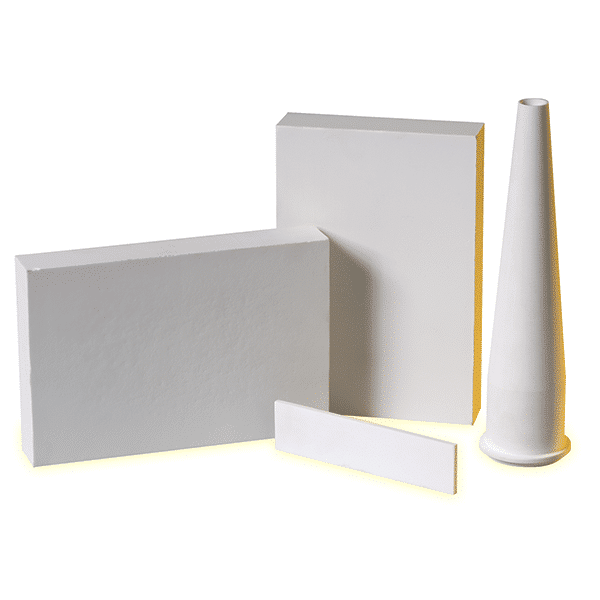 Benefits
Extremely hard – can withstand extreme mechanical wear and abrasion
Exceptional compressive strength
Great thermal stability
Retains up to 50% of their room temperature tensile strength
Inert, highly resistant to chemical attack
Corrosion resistant
Applications
Mill and chute linings
Bearings and wear plates
Seal rings, air bearings
Fluid metering valves
Water, wood pulp slurries
High strength insulators
Availability
**Product available on indent only. Please contact us to order.
A stock range of tile sizes and thicknesses to suit specific applications.
Specification
Standard tiles: Available with special adhesive ex stock
Weldable tiles: On request
Wear Resist®: Protective coating with bonding agent on request