Lurethane
Lurethane® is a thermoset polyurethane elastomer which possesses toughness and durability far in excess of most rubbers and plastics. One of its most important characteristics is its broad hardness spectrum, which can range from erasersoft to golf-ball hard, and is governed by the pre-polymer's molecular structure, not by the addition of fillers or plasticisers.
Lurethane® has a remarkable resistance to abrasion and low temperature stiffening, and high load-bearing capacity. It is also hydrolytically stable and able to be both moulded and poured.
Harder grades can be machined, and Lurethane® has superior resistance to oils, chemicals, radiation and weathering. It also has an extremely high flex life and cut resistance.
Lurethane® combines the toughness of metal with the elasticity of rubber and withstands the most severe abuse. It offers an outstanding alternative to more traditional materials and is now extensively used in many demanding industrial applications.
Temperature range: -30°C to +85°C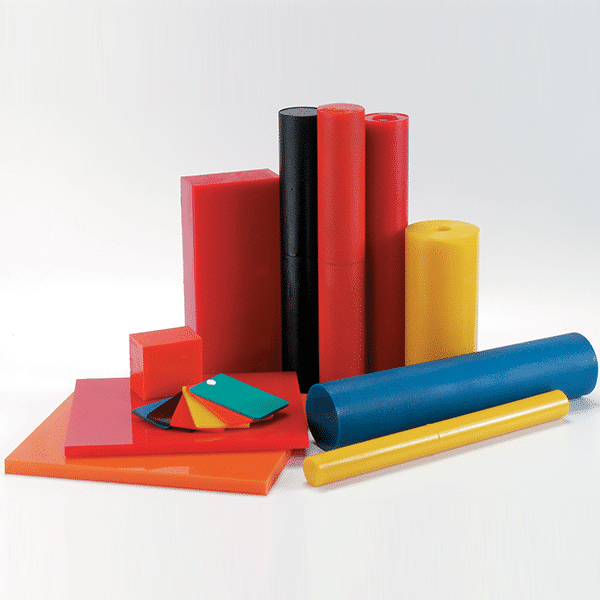 Benefits
Industrial wheel and roller coatings
Pump bushes and impellors
Bearings and thrust pads
Buffer rings and pads
Conveyor idlers and pulleys
Applications
Superior impact, abrasion and tear resistance
High load-bearing capacity
Extremely broad-spectrum hardness grades
Excellent custom moulding and bonding ability
Good chemical resistance
Hardness
The chart indicates how Lurethane® rates in hardness when compared with other materials. Lurethane® is manufactured in hardness grades from 40 Shore A to 70 Shore D. The grade is identified by these colours:
| | | |
| --- | --- | --- |
| Standard Grade | Hardness | Colour |
| PU60A | 60A | Light blue |
| PU20 | 75A | Orange |
| PU30 | 85A | Yellow |
| PU40 | 90A | Red |
| PU50 | 95A | Black |
| PU70 | 70D | Dark Blue |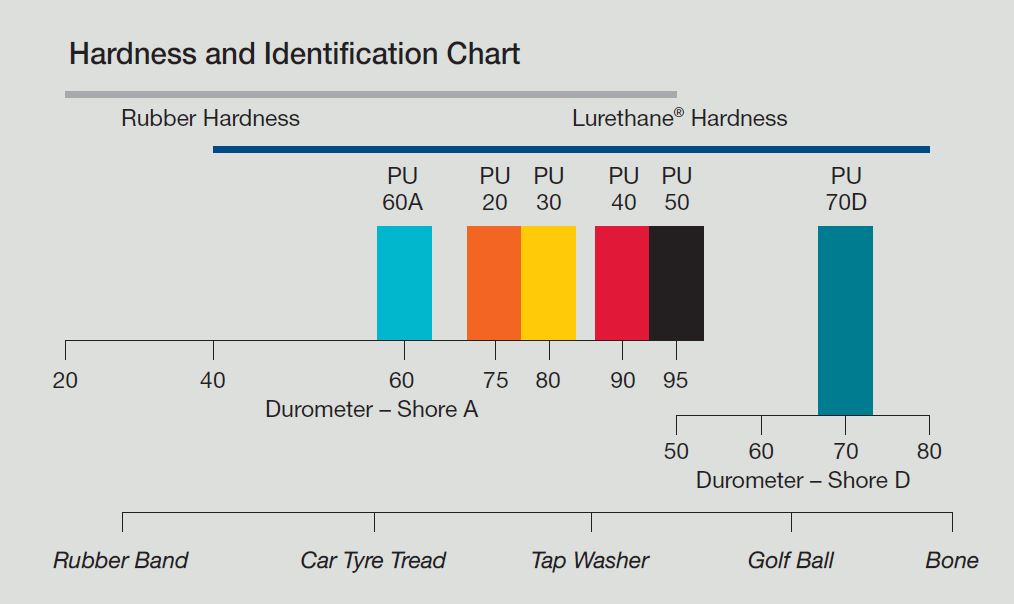 Lurethane Compression
Lurethane® has a much higher load-bearing capacity in both compression and shear than do conventional elastomers of comparable hardness. Compression using Lurethane® means that the elastomer will not change in volume under pressure, but will undergo a change in shape to the limit of its strength under load. When a load is placed on polyurethane, it reacts by exerting force consistently in all directions. Lurethane® will return to its original shape when that load is removed. This characteristic can offer important advantages and provide solutions in many applications.