This highly crystalline unreinforced fluorinated thermoplastic (pvdf) is produced by the polymerisation of vinylidene fluoride. It combines good mechanical, thermal and electrical properties with outstanding chemical and high radiation resistance.
The very low water absorption of 0.05% permits the unrestricted use of pvdf components in liquid environments. The material is mechanically strong and rigid enough to guarantee maintenance and leakage-free performance in many applications over a long period of time, even in harsh chemical environments.
The wide temperature range of pvdf (-40°C to +150°C) means that it is clearly superior to many other thermoplastics. It is also a lower-cost alternative to similar high-temperature plastics, such as ptfe and psu.
Being physiologically inert, pvdf has FDA approval, making it suitable for food contact and use in food processing equipment. It also exhibits excellent weather resistance, is dimensionally stable and has outstanding welding capabilities.
The property profile of this versatile high performance thermoplastic make pvdf especially suitable for the manufacture of components for the petrochemical, chemical, metallurgical, medical,textile, food and environmental industries.
Temperature range:
-40°C to +150°C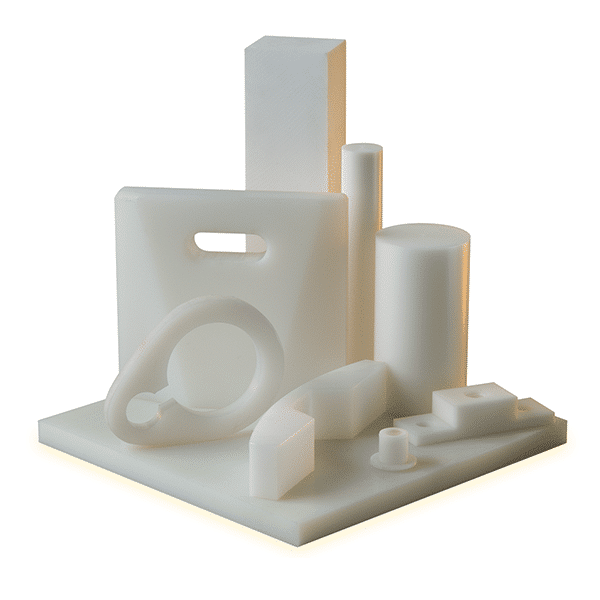 Benefits
High maximum allowable service temperature in air (150°C cont.)
Outstanding UV, weather and chemical resistance
Extremely low water absorption
Excellent mechanical strength stiffness and creep resistance
Excellent ageing resistance
Applications
Pump cases, pump wheels
Valve bodies, pipes and laboratory equipment
Environmental effluent treatment, gas scrubbers
Microchip components
Medical technology
Availability
**Product available on indent only. Please contact us to order.
• Rod from 10mm to 250mm
• Sheet from 10mm to 80mm
Specification
Rod Standard length: 1000mm
Sheet Standard size: 1000 x 610mm