UHMWPE (ultra high molecular weight polyethylene) is a premium virgin grade polyethylene which is used extensively in commercial and industrial applications.
It has a molecular weight of 4,500,000g/mol, and has improved wear and abrasion resistance, combined with outstanding impact strength, even at temperatures below -200°C.
UHMWPE has excellent chemical resistance, low moisture absorption, a low co-efficient of friction and superior anti-stick properties. It is frequently used in high-wear applications, from wear strips under conveyors to guide rails in bottling plants or scraper blades on road rollers.
Extruded profiles and wear strips have applications in the materials handling industry.
Larger UHMWPE sheets are used for lining bulk storage hoppers where  low friction, anti-stick and abrasionresistant properties solve feed and wear problems. Sheets are available with planed or unplaned surfaces.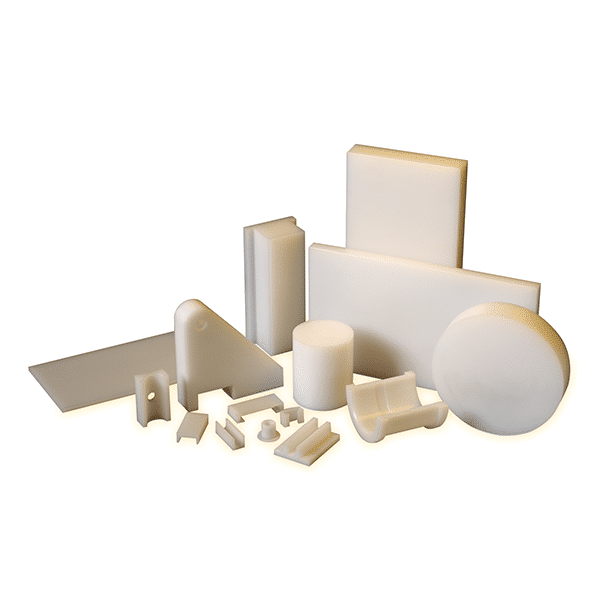 Benefits
Outstanding Impact Strength
Improved Abrasion Resistance
Low co-efficient of friction
Poor UV Resistance
No metal-to-metal contact
Superior Anti-stick properties
Good chemical resistance
Applications
Scraper blades
Hopper linings
Truck bed linings
Chain guides and tensioners
Screw conveyors linings
Bottling, canning and packaging machinery
Bulk handling materials
Availability
Rod from 10mm to 300mm
Sheet from 3mm to 200mm
Specification
Rod Standard length:
10 to 300mm: 2000mm
Sheet Standard sizes:
3000 x 1220mm
6000 x 2000mm