Ertalyte® petp is polyethylene terephthalate. It is one of the harder industrial plastics and comes in two grades - virgin or natural petp (white, black) and TX petp (pale grey), which has a uniformly dispersed solid lubricant.
The virgin or natural grade is recommended for use with precision parts which are subject to sustained high loadings and wear, whilst the TX grade has a very low friction co-efficient and a high pressure to velocity rating (a 50mm diameter x 75mm long petp bush can take a load of up to 9 tonnes).
The main uses for Ertalyte® petp are in applications which require low friction, low moisture absorption, high mechanical strength and good dimensional stability.
Temperature range: -20ºC to +100ºC
(-20°C to +55°C in water)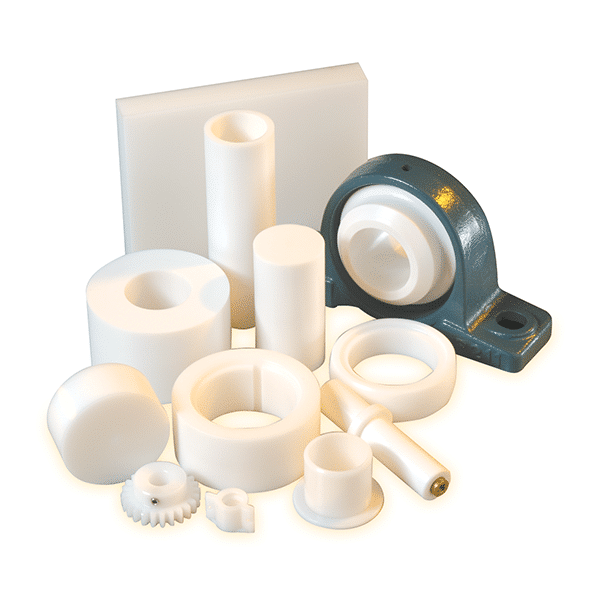 Benefits
High mechanical strength and hardness
Very good creep resistance
Low and constant co-efficient of friction
Excellent wear resistance
Non-toxic for food contact
Very good dimensional stability
Applications
Dimensionally stable parts for bushings, gears, rollers and pump components
Heavily-loaded bearings and bushes
Thrust washers
Insulating components in electrical engineering
Rudder stock bearings
Availability
Natural
• Rod from 10mm to 200mm
• Sheet from 2mm to 100mm
• Tube from 20mm to 200mm
TX
• Rod from 10mm to 200mm
• Sheet from 8mm to 100mm
• Tube from 20mm to 200mm
Specification
Rod Standard length: 3000mm
Sheet Standard sizes:
2 to 6mm: 2000 x 1000mm
8 to 10mm: 3000 x 610mm
Tube Standard length: 3000mm