This unreinforced amorphous thermoplastic psu (polysulphone) is a tough, rigid material that offers an excellent combination of mechanical, thermal and electrical properties. It is produced from non UV-stabilised polysulphone resin and exhibits high mechanical strength and stiffness over a wide temperature range.
Other characteristics of psu include a high maximum allowable service temperature in air (150°C continuously) and good dimensional stability.
The material offers excellent radiation stability, with low ionic impurity levels and good chemical and hydrolysis resistance. This latter property makes it ideal when repeated steam sterilisation and cleaning is required. Compared to pei 1000, psu has a lower property profile, which allows it to often replace polycarbonate whenever higher temperature resistance and improved chemical resistance are needed. It is resistant to CIP solutions, both caustic and nitric. Being physiologically inert, psu is suitable for food contact and food processing equipment use.
Since amorphous thermoplastics inherently possess a low wear resistance and high co-efficient of friction, psu is not recommended for use in friction and wear applications.
Temperature range: -60°C to +150°C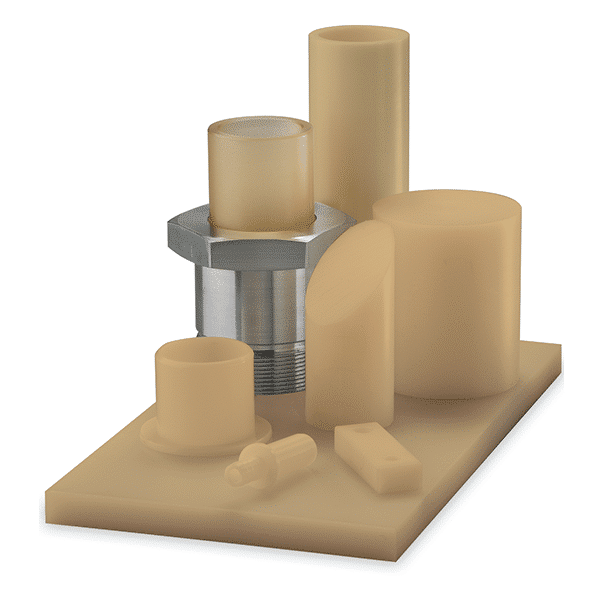 Benefits
High maximum allowable service temperature in air (150°C cont.)
Excellent hydrolysis resistance
Low ionic impurity levels
High mechanical strength over a wide temperature range
Translucent non-optical quality
Suitable for food contact
Applications
Beverage dispensers
Food processing equipment
Pumps,valves, insulators
Filtration plates
Heat exchangers
Medical equipent
Availability
**Product available on indent only. Please contact us to order.
• Rod from 10mm to 100mm
• Sheet from 20mm to 50mm
Specification
Rod Standard length: 1000mm
Sheet Standard size: 1000 x 625mm